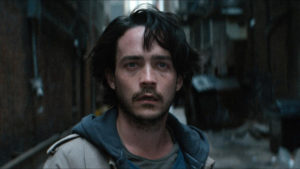 Director Ruairi Robinson (Fifty Percent Grey, Silent City, BlinkyTM & Leviathan), Academy Award-nominated Irish filmmaker dropped his latest film, Corporate Monster, a proof of concept short, free to view online.
Written by Robinson & Eoin Rogers, the sci-fi horror film, with VFX by Robinson's The Kaiju Meat Company, stars Kett Turton and Jenna Coleman as a couple confronted with the reality that either he is just dangerously unstable, or there are in fact monsters all around us.
"There's a growing sense of unease and distrust of authority that's not really being reflected in popular culture today the way films of the 1970s did in a post-Watergate era. I really miss those movies, and nobody is making them, so I felt compelled to go make one myself," said Robinson.
In Corporate Monster, after being phased out of his job, a dangerously unstable man's life spirals out of control when the prescription pills he takes start to have a side effect: they allow him to see the parasitic beings that have long been puppeteering our world from the shadows. The rich and powerful are not even human, and they are feeding on us. He sets about trying to save his girlfriend from them, but it's just as possible they are just a side effect of the pills, a hallucination. Is he a savior or a monster himself?
Corporate Monster was produced by Nick Ryan of Titan II/ Floodland Pictures, with executive producers Jay Douglas of Rebellion Studios, Robinson under The Kaiju Meat Company shingle, and Jessica Rudzewicz, and associate producer Anthony Tai. The film was financed by FÍS ÉIREANN/SCREEN IRELAND and Rebellion Studios.
"I love stories that shatter the protagonist's lens, so it was an absolute pleasure watching Ruairi at the helm conduct his visual symphony. We're confident that enough people will get excited about it to warrant a feature or series so that we can expand the world," said Jay Douglas, Executive Producer.