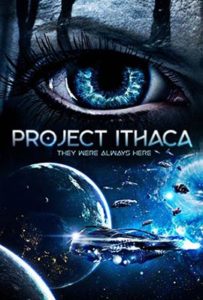 Wild Media Entertainment's Newest Sci-Fi Thriller, PROJECT ITHACA Comes to the Big Screen Across Canada and the US Starting June 7, 2019
Wild Media Entertainment and Raven Banner Releasing, the Canadian distribution arm of Raven Banner Entertainment,announce the Canadian release of sci-fi thriller, PROJECT ITHACA on June 7, 2019, which coincides with the US release of the movie, via Saban Films. Raven Banner Releasing is handling Canadian distribution.
The film showcases an international ensemble cast starring JAMES GALLANDERS (SAW II, BRIDE OF CHUCKY, MURDER AT 1600), DERAGH CAMPBELL(FAIL TO APPEAR, NEVER EAT ALONE, THE OTHER HALF), DANIEL FATHERS (Dark Matter, Snatch) and ALEX WOODS (BURNING MUSSOLINI, The Expanse, Covert Affairs).
Special theatrical screenings will take place on the following dates in Canada:
June 12: SilverCity Sudbury Cinemas (Sudbury, ON)
June 17: Cineplex Odeon International Village (Vancouver, B.C.)
June 17: Cineplex Cinemas Yonge- Dundas (Toronto, ON)
June 17: Montreal's Latin Quarter (Montreal, QC)
June 18: Globe Cinema (Calgary, AB)
June 20: Mayfair Theatre, (Ottawa, ON)
The final battle will be for your mind as PROJECT ITHACA comes to these theatres in the US, via Saban Films, starting Friday, June 7, 2019:
NYC – Cinema Village
LA – AMC Rolling Hills 20
Chicago – AMC Woodridge 18
Cleveland – AMC Solon 16
Dallas – AMC Irving 10
Detroit – AMC Southfield 20
Minneapolis – AMC Apple Valley 15
Orlando – AMC W Melbourne
Phoenix – AMC Arizona Center 24
Seattle – AMC Gateway 8
PROJECT ITHACA will also be available across online platforms in Canada,releasing the film first on iTunes June 21st (pre-sale only) with VOD release to follow on July 9th on the following platforms (with more to follow):
iTunes
Cineplex
Shaw
Vimeo
"We're extremely excited for audiences in Canada and the US to experience a fresh take on the genre," says James Milligan, Producer and CEO of Wild Media Entertainment. Anthony Artibello, Producer and CCO of Wild Media adds, "Project Ithacahas an emotional resonance audiences might not expect from this type of film."
In the highly anticipated PROJECT ITHACA, a smart sci-fi thriller with stunning production design and amazing visual effects, a group of strangers awakens aboard an alien spacecraft. Divided they will die, but together, they hope to find a way home.
"Wild Media's objective was to create a theatrical quality, cinematic feature film with emerging talent," says Milligan. "I believe we delivered in front of the camera but also in post. The team assembled was top notch and it shows in the VFX, colour and score. Saban Films (USA) and Raven Banner Entertainment (CAN) are the final players bringing PROJECT ITHACA to audiences across North America. We're thrilled to be partnered with them."
As evident with the success of new titles like this one, Wild Media Entertainment continues to operate as a home for elevated genre and continues to help pave the way for filmmakers in this rapidly changing marketplace.
The film was made possible, in part, with the support of Northern Ontario Heritage Fund, Ontario Creates and NBCUniversal.