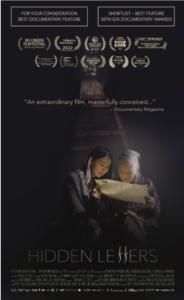 Oscar contender "Hidden Letters" is set to open this Friday, December 9 in select U.S. theaters.
The film is directed by Violet Du Feng and Zhao Qin.
Spanning between past and present, Hidden Letters follows two millennial Chinese women who are connected by their fascination with a secret language of sisterhood, and their desire to protect it against a perpetually patriarchal society.
Here's the film's official synopsis:
For centuries in China, the once-secret written language of Nüshu was calligraphed on folded fans and handkerchiefs as hidden letters so women could share stories and express solidarity in a repressive era when many women were denied literacy. Confronting patriarchy, two modern women find solace in Nüshu, rediscovering connections between traditional Chinese womanhood and contemporary feminism.