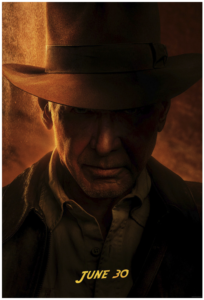 "Indiana Jones and the Dial of Destiny" is officially the new title of the upcoming 5th Indiana Jones film, which sees Harrison Ford reprising iconic role as the hero archaeologist. The film is also said to be Ford's final time to play the role.
Disney has unveiled the first trailer for the film, which shows a de-aged Ford in various death defying action sequences and a thrilling car chase sequence. The trailer does not reveal a lot of details about the film's plot, but it is heavy on action and nostalgia, and ending in a hilarious scene where a dozen guns are pointed at Indiana Jones. The film is set in the 1960s this time around, during the Space Race between the US and the Soviet Union.
Lucasfilm has also unveiled the film's a new poster, which features a face close-up shot of Ford's Indiana Jones character wearing his signature fedora hat and leather jacket.
John Rhys-Davies is reprising his role as Sallah A new set of cast members include Phoebe Waller-Bridge, Antonio Banderas, Shaunette Renée Wilson, Thomas Kretschmann, Toby Jones, Boyd Holbrook, Olivier Richters, Ethann Isidore, and Mads Mikkelsen.
Directed by James Mangold (Logan, Ford v Ferrari). "Indiana Jones and the Dial of Destiny" is set for release into theaters June 30, 2023. Watch the full trailer below.