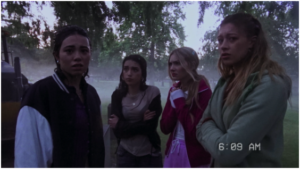 The film features five new stories from each of the filmmakers Maggie Levin (Into The Dark: My Valentine), Johannes Roberts (47 Meters Down, Resident Evil: Welcome To Raccoon City), Flying Lotus (Kuso), Tyler MacIntyre (Tragedy Girls) and Joseph & Vanessa Winter (Deadstream).
V/H/S/99 will be released exclusively on Shudder on October 20th. The film will be avaiable in Shudder US, Shudder CA, Shudder UKI and Shudder ANZ. V/H/S/99 debuted at the 2022 Toronto International Film Festival.
"Since its inception, the V/H/S franchise has been a showcase for both established and emerging horror filmmakers to terrify audiences with innovative takes on the found footage genre. Following the success of last year's hit V/H/S/94 and this year's upcoming V/H/S/99, we are totally stoked to take Shudder members back to 1985 with a wicked new collection of scares from some of the most radical horror directors working today," said Shudder General Manager Craig Engler.
V/H/S/99 harkens back to the final punk rock analog days of VHS, while taking one giant leap forward into the hellish new millennium. In V/H/S/99, a thirsty teenager's home video leads to a series of horrifying revelations.