By Armando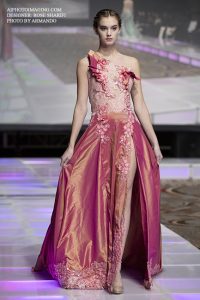 New York, NY—February 14th, 2017 – Couture New York Fashion Week began on Friday, February 10 and run throughout the weekend. All of the shows were held on Crowne Plaza Times Square Manhattan, Broadway, NY.
The Fall 2017 Collections featured collections from around the globe including Belinda Bullshoe, Cory Tran, Laura Moss, Rose Sharifi, Farah Sugar, Paulina Canas, Luis Machicao, Diana Mahrach, Meggie Hadiyanto, Mety Choa, Olga Alicea & Hector Musse, Bella Fashion Designs, Lourdes Atencio, Vanny Tousignant, Ruchika Kabra, Alexandra Popescu, Reuden Banks, Houda El Fechka Eddiouanne, and Andres Aquino who closed the runway shows on Saturday night.
The shows also featured performances from Williams Honor, Michael Raven, Amine J.Hachem, Nadjah Nicole and Olga Alexandrova among others.
Saturday night ended in spectacular fashion, as Andres Aquino walked his full collection to close the night out.
Couture Fashion Week was founded in 2005 by Andres Aquino and presents a series of couture and luxury fashion shows in New York City, Cannes and other selected cities.
Here's some of the highlights of the weekend shows.
Photographer: Armando – aiphotoimaging.com
New York Couture Fashion Week
Crowne Plaza Times Square Manhattan, Broadway