By AI Creative Media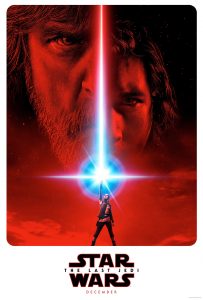 "It's time for the Jedi to end," Luke tells Rey at the end of the epic first trailer for Star Wars: The Last Jedi, which premiered at the Star Wars Celebration in Orlando on Friday before it was released online. The trailer was live streamed on the YouTube channel of Star Wars.
The Last Jedi is the follow-up to a small relatively unknown movie "The Force Awakens", and continues to where Awakens left off. Of course that small movie is currently the highest grossing domestic film of all time.
Here we see Rey (Daisy Ridley) on a remote island where she first met the legendary Luke Skywalker (Mark Hamill), as well as intergalactic space battles, the Millenium Falcon, glimpses of Finn and Kylo Ren, and what seem like an epic battle between the Resistance and The First Order.
Directed by Rian Johnson ("Looper"), also features Poe Dameron (Oscar Isaac), Finn (John Boyega) Luke Skywalker (Mark Hamill). Later this year, we will find out if "The Last Jedi" lives up to the hype. "Star Wars: The Last Jedi" arrives in theaters on Dec. 15. Watch the trailer below: