The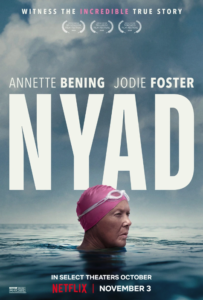 The biopic NYAD tell a remarkable true story of athlete Diana Nyad who, at the age of 60 and with the help of her best friend and coach, commits to achieving her life-long dream: a 110-mile open ocean swim from Cuba to Florida.
Directed by Elizabeth Chai Vasarhelyi and Jimmy Chin, the film stars Jodie Foster, Rhys Ifans, Annette Bening.
Last week on on September 1, the film had its world premiere at the 50th Telluride Film Festival.
"Nyad" is set to premiere in selected theaters on Oct. 20, followed by streaming on Netflix starting on Nov. 3.
Watch the full trailer below.