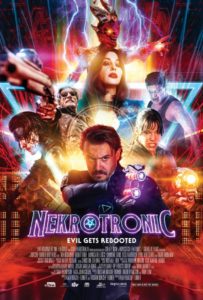 Momentum Pictures has announce the release date for NEKROTRONIC, the latest comedy, horror, sci-fi starring Monica Bellucci (The Matrix: Reloaded, Mozart in the Jungle) and David Wenham (The Lord of the Rings).
The film is set for release on select theaters, VOD and digital HD on August 9, 2019.
Directed by Kiah Roache-Turner (Wyrmwood: Road of the Dead) from a script written by Kiah Roache-Turner, Tristan Roache-Turner (Wyrmwood: Road of the Dead), the film co-stars Ben O'Toole (Hacksaw Ridge, The Water Diviner), Caroline Ford (Amazon's Carnival Row, TV's Once Upon a Time), Tess Haubrich (The Wolverine, Alien: Covenant), and Epine Bob Savea.
Here's the film's official synopsis
Howard North, a down on his luck sewage worker, gets dragged into a global conflict between the Nekromancers, a family of badass demon hunters, and Finnegan (Monica Bellucci) – an evil demon who absorbs people's souls to increase her power. When Howard finds out the truth behind Finnegan's past and her dark plans for the future, he teams up with his new friends to discover he is the ultimate Nekromancer, the only one with the power to defeat her and save the world.