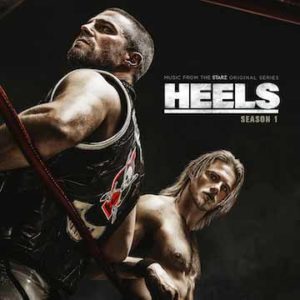 The main title theme "Love in War" and select tracks from episode one of the upcoming Starz wrestling drama Heels—from writer and creator Michael Waldron (Loki, Rick and Morty) and showrunner Mike O'Malley (Shameless, Survivor's Remorse)—are available for pre-save today, ahead of Sunday's August 15th series premiere. Weekly episodic playlists featuring a combination of score and source music will be released on Spotify and Apple Music, in conjunction with the episode air dates.
For "Love in War," series composer Jeff Cardoni (Silicon Valley, The Kominsky Method) collaborated with Ben Bridwell, frontman of the Grammy-nominated American rock group Band of Horses. The main musical theme wasn't originally in the Cardoni's line of duties, until music supervisor Jonathan Leahy suggested that he and Bridwell pair up. The artists wrote the song together and Ben lent his vocals, resulting in a soaring main title theme that is emotional, uplifting, and poignant.
Heels is a story about the men and women who chase their dreams in the world of small town pro wrestling. Set in a close-knit Georgia community, it follows a family-owned wrestling promotion as two brothers and rivals war over their late father's legacy. In the ring, somebody must play the good guy and somebody must play their nemesis, the heel. But in the real world, those characters can be hard to live up to — or hard to leave behind.

"I really felt the main title theme should be based on music from the show, so I wrote the track and tied it to the main titles graphics and started lobbying the powers that be to have a listen," says Jeff Cardoni. He continues, "Ben and I bounced some voice memo vocal ideas off each other, and then Ben did his thing. A few days later, he sent me the song and I just about had an out of body experience. It was so emotional, uplifting, and poignant. His voice paired with my music just worked in ways I couldn't have imagined. Heels was a dream project for me to work on—I feel it's the most personal representation of what I do to date. I can't wait for the world to check it out."
Ben Bridwell comments, "As a southern kid who grew up watching wrestling and waiting after the matches to get autographs, I was thrilled and honored to be asked by Jeff Cardoni and Jonathan Leahy to contribute to the Heels theme. It really does feel like a dream indeed. I was stunned when they liked my rough demo, and then chose to use the final version. I've wanted to work more in television and film, and I am so grateful for the opportunity."
Music supervisor Jonathan Leahy adds, "At 90 seconds long, Heels gave us an opportunity to do something really ambitious with our main title theme. We discussed licensing a pre-existing song or working with a band to create something new for the show, but once we heard Jeff Cardoni's instrumental theme, that became our focus. When considering potential collaborators, Ben Bridwell was the first person who came to mind. The stars aligned, Ben was able to write and sing on the track, and the final result really captures the heart and intensity of the series. I couldn't be more proud of the work that Jeff and Ben did together."