Lifetime unveils the network's full fall Ripped From the Headlines "Truly Unbelievable" movie slate, featuring top talent in seven new original movies.
All produced earlier this year, the fall lineup includes Lifetime's milestone 500th original movie, the two-night event Murdaugh Murders: The Movie starring Bill Pullman as Alex Murdaugh who, on the surface is a prominent and respected South Carolina lawyer, loving husband and father but behind closed doors, lived a drug-filled secret life that ultimately led to murder.
The two-part movie will premiere as the tent-pole of fall slate, premiering on October 14th and 15th at 8p/7c. New original movies will all debut Saturdays at 8p/7c from September 16 – October 28.
Lifetime's full fall schedule is below with more details on each movie.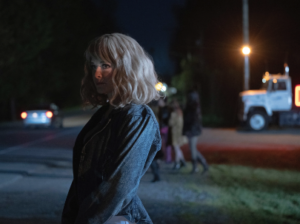 HOW SHE CAUGHT A KILLER –previously announced. New airdate September 16
Inspired by real events, rookie detective Linda Murphy (Sarah Drew) is fresh out of the police academy when she hears her boss, detective David Goodman (Eric Keenleyside) talking about a serial killer in the area who seems to be targeting sex workers. Teaming up with FBI agent Neil Carter (Jamall Johnson), Linda fights to go undercover to help solve the murders and, if all goes accordingly, capture a serial killer. Delilah Hamlin stars as a former sex worker and aspiring nurse who is the killer's first victim.
How She Caught a Killer is produced for Lifetime by Suspense Productions and Tiny Riot. The film is executive produced by Timothy O. Johnson, Stacy Mandelberg, Jason Egenberg and Sarah Drew. Robin Hays directs off a script by Yuri Baranovsky and Angela Gulner.
Sarah Drew previously starred in the Lifetime movies Stolen By Their Father: The Lizbeth Meredith Story (2022), Reindeer Games Homecoming (2022) which she also wrote, Twinkle All the Way (2019) and Christmas Pen Pals (2018).
STOLEN BABY: THE MURDER OF HEIDI BROUSSARD – Premieres September 23
Stolen Baby: The Murder of Heidi Broussard is based on a true story of best friends Magen (Emily Osment, Young Sheldon, The Kominsky Method, Hannah Montana) and Heidi (Anna Hopkins, The Expanse) who have known each other for a decade. Pretending to be pregnant at the same time as her friend, Magen makes the journey from Houston to Austin to be by Heidi's side once she learns she is ready to give birth. However, when Heidi goes missing with her newborn daughter just a few weeks after giving birth, suspicions about Magen's loyalty and her true intentions are questioned. Authorities begin to suspect that she is hiding a huge secret as they begin to uncover her twisted and elaborate plan. Ian Lake (Locke & Key, Trapped: The Alex Cooper Story) and Briar Nolet also star.
Stolen Baby: The Murder of Heidi Broussard is produced for Lifetime by MarVista Entertainment. The film is executive produced by Caitlin Delaney, Shane Boucher, Keith Nietupski and Larry Grimaldi. Michelle Ouellet directs off a script written by Ali Salerno.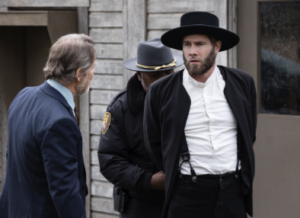 AMISH STUD: THE ELI WEAVER STORY – Premieres September 30
Devoted to her husband, kids and faith, Barbara Weaver (Miranda MacDougall, The Flash) was content leading a traditional life in her conservative Ohio Amish community—with no modern conveniences. Her husband Eli (EP, Luke Macfarlane, Bros), however, wanted the things that were forbidden to him as an Amish man. He gave into the temptations of women and technology, leading a secret life with the online alias "Amish Stud" to meet with women outside of his marriage bed. Eli found his pick of curious women fascinated by the Amish lifestyle, and often spoke to his mistresses about his desire to kill his wife. When Barbara is found dead from a shotgun wound, all eyes turn to Eli.
But with his rock solid alibi, investigators had nowhere to turn, until they discover Eli had a secret cell phone. Their investigations led them to Barb Raber (Kirsten Vangsness, Criminal Minds), a married Conservative Mennonite who had been having an affair with Eli and who was plotting with him to murder his wife. Ultimately, it is up to the detectives investigating the crime to find justice for Barbara Weaver. Amish Stud is based on the book, "A Killing in Amish Country: Sex, Betrayal and a Cold-Blooded Murder" by bestselling authors Gregg Olsen and Rebecca Morris.
Amish Stud: The Eli Weaver Story is produced for Lifetime by Stud Productions Inc., in association with Milojo Productions and Johnson Production Group. Timothy O. Johnson from Johnson Production Group, Laurie Pozmantier, Gregg Olsen, Oliver DeCaigny and Rebecca Morris executive produce alongside Luke Macfarlane. Jill Goldhand is Coexecutive producer while Navid Soofi produces. Stacey Harding directs from a script by Hunter Smith and Kim Izzo.
Additional cast members include Brent Stait, Mark Krysko, Clare Filipow, Kara Cubitt, Millan Tesfazgi, Milo Shandel, Dean Paul Gibson, Brad Abramenko, Larry MacDonald, Michael Querin, Ryder Miller, Peter Chao, Nelson Giles, Lilliana Nekrash and Laura MacDonald.

BUYING BACK MY DAUGHTER – previously announced, airdate now set – October 7
When Dana (Meagan Good) and Curtis' (Roger Cross) 16-year-old daughter, Alicia (Faith Wright), sneaks out of the house to attend a party, a bout with teenage rebellion quickly escalates into a widespread search party spearheaded by Dana and the police. After almost a year of searching for her missing daughter, mother's intuition leads Dana to the salacious world of online escort ads where, to her horror, she finds her Alicia listed for sale. Dana and Curtis spring into action and attempt to "buy their daughter back" in order to rescue her from the trafficker who abducted Alicia and subjected her to unspeakable harm. Ariana Madix stars as Karen, a police officer who helps investigate the case and has a personal connection to the story.
Buying Back My Daughter is produced by Front Street Pictures for distribution by Lifetime. Produced by Charles Cooper. Executive producers are Orly Adelson, Allen Lewis and Meagan Good with James Jope as co-executive producer. Troy Scott directs from a script written by Barbara Marshall. Good continues her relationship with Lifetime after having starred in and produced the films Death Saved My Life and Love By the 10th Date.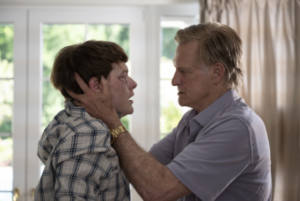 MURDAUGH MURDERS: THE MOVIE –Lifetime's Milestone 500th Original Movie Two-Part, 4 hour movie – Premieres October 14 & 15
Murdaugh Murders: The Movie follows the twisted true story of Alex Murdaugh played by award-winning actor Bill Pullman (The Sinner, Halston), who was found guilty in the double homicide of his wife, Maggie and his son, Paul. For over 100 years, the wealthy and powerful Murdaugh Family were a local dynasty in the South Carolina low country,
where they oversaw the prosecution of all criminal cases in the state's 14th circuit district. But behind all the power, black ties, and fancy dresses Alex had many secrets… Even with all of Alex's influence, he couldn't prevent The Murdaugh Family's legacy from being tarnished after Paul was involved in a boating accident that left a young girl dead. While Maggie was consumed with what was happening with Paul, Alex was hiding his addiction to opioids and stealing insurance settlements from his own clients to fund his habit and the family's lavish lifestyle. Then in June 2021, Maggie and Paul were found murdered and eyes began to turn to Alex. The bizarre story continued when Alex was nearly shot in the head and his indiscretions and lies began to surface, leading to the eventual unraveling of Alex Murdaugh's once charmed life.
Murdaugh Murders: The Movie also stars Lauren Robek (Firefly Lane, Yellowjackets) as Maggie Murdaugh, Curtis Tweedie (I Zombie, Supernatural) as Paul Murdaugh and Donovan Stinson (UnReal, So Help Me Todd) as Detective Hume who is investigating the murders.
Murdaugh Murders: The Movie is produced by Murdaugh Productions Inc. in association with Johnson Production Group. Stacy Mandelberg, Timothy O. Johnson, Jason Ryan, Oliver DeCaigny and Michael Vickerman Executive Produce, while Navid Soofi produces. Greg Beeman directs from the script written by Michael Vickerman.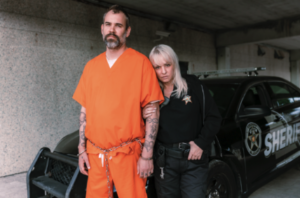 BAD ROMANCE: THE VICKY WHITE STORY – Premieres October 21
Based on a true story, the movie follows Vicky White (Wendi McLendon-Covey), a lonely corrections officer who falls for a prisoner (Rossif Sutherland), but before she can ensure their happily ever after, she must first break him out of prison.
Every day for divorced prison corrections officer Vicky White (McLendon-Covey) is like the movie Groundhog Day – mundane and every day just like the previous. But when new prisoner Casey White (Sutherland) is brought to her facility, the two develop a secret infatuation. Vicky gives Casey special attention, believing he's the only man to see her
the way she wants to be seen. But when Casey's inevitable transfer to a lengthy prison sentence approaches, Vicky decides to take desperate action. Risking everything, Vicky manages to break Casey out of jail and takes him on the run, eluding authorities on an eleven-day dash for freedom. For Vicky, even the probable tragedy ahead of them is worth the chance to live life fully once more.
Bad Romance: The Vicky White Story is executive produced for Lifetime by Wendi McLendon-Covey, Tom Patricia, Gladys Gonzalez of John Carrabino Management and Howard Braunstein with Stan Brooks directing from a script by Gregory Small and Richard Blaney with Juliette Hagoplan producing the movie. Wendi is repped by UTA manager, Gladys Gonzalez, and attorney David Krintzman.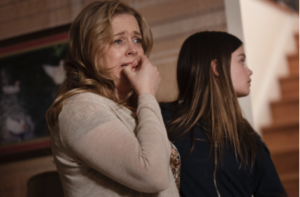 WOULD YOU KILL FOR ME? THE MARY BAILEY STORY – Premieres October 28
Told through three different perspectives, Would You Kill for Me? The Mary Bailey Story follows the volatile relationship between three generations of women – Ella (Melissa Joan Hart), her daughter Veronica (Olivia Scriven), and her granddaughter Mary (Presley Allard) whom she raises for Veronica. After Veronica becomes deeply entangled with
Willard (Connor McMahon) and later marries him, the lives of all three women take a turn for the worse when Willard becomes increasingly abusive. Veronica suffers a deep betrayal when her best friend Susan (Celina "Spookyboo" Myers), becomes pregnant with Willard's child, further complicating their toxic relationship, leaving Ella, Mary and her
half-brother Sammy at the mercy of Willard's alcoholic rampages. The family fears for their lives, culminating in one horrific night when Willard is shot dead…but the identity of who pulled the trigger is not revealed till the very end. The Mary Bailey Story, based on the real-life experiences of Mary Elizabeth Bailey, author of "My Mother's Soldier,"
whom at 11 years-old, was forced to do the unthinkable.
Would You Kill for Me? The Mary Bailey Story is a Mb Ontario Film, Inc. and MB Quebec Film Inc production, in association with Johnson Production Group, Inc. Brendan McNeill and Steve Boisvert serve as producers. Executive Producers include Timothy O. Johnson, Stacy Mandelberg, Pierre David, Roxanne Boisvert and Melissa Joan Hart. Simone Stock directs the screenplay from Gregg McBride, based on the book, "My Mother's Soldier," by Mary Elizabeth Bailey who also serves as a consultant on the film.