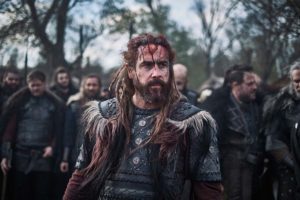 Today, Netflix debuts all 10 episodes of the third season of The Last Kingdom. The new season will see King Alfred consider his legacy, as his dream of uniting the kingdoms of England is jeopardized by incessant Danish attacks.
Alfred knows that the only man with the power to crush the uprising and secure the Wessex dynasty is the great warrior and hero Uhtred, but when their volatile relationship reaches breaking point, Uhtred must confront the difficult truth: if he deserts Alfred's cause, everything he has fought for will be forever changed.
Produced by the award-winning Carnival Films, the ten-part season is adapted by BAFTA-nominated and RTS award-winning writer Stephen Butchard, who also serves as executive producer. The executive producers for Carnival Films are Gareth Neame and Nigel Marchant. Chrissy Skinns is series producer and Cait Collins is producer.