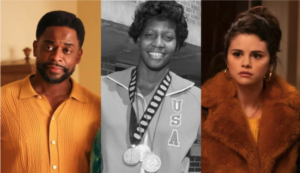 The 2022 Peabody Awards have officially announced nominations for this year's honors. The nominees represent the most compelling and empowering stories in media for the last year.
"Following yet another turbulent year, Peabody is proud to honor an array of stories that poignantly and powerfully help us make sense of the challenges we face as a nation and world," Peabody executive director Jeffrey Jones said in a statement. "Demonstrating the immense power of stories, these nominees exposed our societal failures and celebrated the best of the human spirit. They are all worthy of recognition, and Peabody is proud to celebrate them."
PBS led the nomninations with 13 programs as finalists, followed by HBO with eight and Hulu and Netflix with five apiece.
The 30 winners of the 82nd annual Peabody Awards is set to be announced from June 6 through June 9.
See below for the full list of nominees.
ARTS
"Summer of Soul (…Or When The Revolution Could Not Be Televised)"
Ahmir "Questlove" Thompson's rousing directorial debut chronicles the seminal 1969 celebration of Black history, music, and fashion, The Harlem Cultural Festival, through interviews and largely forgotten footage of performances from Stevie Wonder, Nina Simone, Sly & the Family Stone, and many more.
A Vulcan Productions Inc. Production, In Association with Concordia Studio, Play/Action Pictures, LarryBilly Productions, Produced by Mass Distraction Media and RadicalMedia. (Searchlight Pictures, Onyx Collective, Hulu)
CHILDREN'S & YOUTH
"City of Ghosts"
The "Ghost Club" ventures around Los Angeles interviewing ghosts and learning about the city's multicultural history in this joyful, educational, and wildly entertaining animated series.
A Netflix Original Series (Netflix)
"Colin in Black & White"
Colin Kaepernick narrates this youthful, coming-of-age drama about his upbringing as a football star aspiring to greatness, grappling with his racial identity, and learning to stand up for his beliefs.
ARRAY for Netflix (Netflix)
DOCUMENTARIES
"9to5: The Story of a Movement"
Directors Julia Reichert and Steven Bognar tell the story of the real-life secretarial labor movement that inspired the hit 1980 film and changed American offices forever.
Working Women Documentary Project LLC, ITVS (PBS)
"Attica"
Through new interviews with survivors of the 1971 uprising at the Attica Correctional Facility, as well as observers, experts, and government officials, this documentary sheds new light on the violent standoff between Black and Latino inmates and law enforcement officers while highlighting the ongoing need for prison reform.
SHOWTIME Documentary Films Presents A Firelight Films Production, In Association with Topic Studios (SHOWTIME)
"Changing the Game"
High school athletics have become a key battleground in the fight for trans rights, and this documentary highlights several who are not only competing at top levels but also challenging gender boundaries.
Hulu, Superfilms Productions, Foton Pictures, Glanzrock Productions (Hulu)
"Downing of a Flag"
PBS's two-part series delves into how the Confederate flag has affected the people, politics, and perception of South Carolina—and how this reflects America's continued reckoning with its racial history.
South Carolina ETV, Strategic Films, Susie Films (PBS)
"Exterminate All the Brutes"
In this four-part docuseries, filmmaker Raoul Peck ("I Am Not Your Negro") explores the devastating effects of European colonialism, from Native American genocide and American slavery forward, through its effects today. It unpacks three seminal works—Sven Lindqvist's "Exterminate All the Brutes," Roxanne Dunbar-Ortiz's "An Indigenous People's History of the United States," and Michel-Rolph Trouillot's "Silencing the Past—Exterminate All the Brutes"—through documentary footage, archival material, animation, and interpretive scripted scenes.
HBO/HBO Max (HBO/HBO Max)
"High on the Hog: How African American Cuisine Transformed America"
This sumptuous four-episode series traces the ways Black food has influenced American culture and history, guided by host and chef Stephen Satterfield.
A One Story Up Production for Netflix (Netflix)
"In the Same Breath"
This eye-opening work, full of shockingly powerful footage, traces the early days of the COVID-19 pandemic as it begins in Wuhan, China, and shows how cover-ups and misinformation scrambled worldwide response even as some sought to call attention to the truth.
HBO Documentary Films Presents a Motto Pictures/Little Horse Crossing the River/ Little Lantern Company Production (HBO/HBO Max)
"Life of Crime 1984-2020"
For 36 years, documentarian Jon Alpert followed three friends from Newark, New Jersey, as they struggled with addiction, prison stints, rehab, employment, and family. The result is a heartbreaking portrait of the toll that drugs can take on a life.
HBO Documentary Films in association with DCTV (HBO/HBO Max)
"Lynching Postcards: 'Token of a Great Day'"
This chilling short film confronts America's shocking racist history through the postcards attendees bought, sold, and sent to celebrate their time at the public lynchings of their Black neighbors in the 19th and 20th centuries—a work made all the more vital by the fact that U.S. President Joe Biden only just recently signed an anti-lynching law.
MTV Documentary Films, Firelight Films, Peralta Pictures (MTV Documentary Films)
"Mayor"
Toggling between moments of banal bureaucracy and terrifying warfare, filmmaker David Osit captures the rhythms of life under occupation for Musa Hadid, the mayor of Palestine's de facto capital of Ramallah.
American Documentary: POV (PBS)
"Mr. SOUL!"
The behind-the-scenes story of "America's first Black 'Tonight Show,'" this celebratory film dives into the public television variety show "SOUL!", which ran from 1968 to 1973. "SOUL!" producer and host Ellis Haizlip brought viewers an unapologetically Black experience, recognizing contemporary luminaries of Black literature, poetry, music, and politics.
Shoes In The Bed Productions, ITVS, Black Public Media (BPM) (PBS)
"My Name is Pauli Murray"
This documentary from the directors of "RBG," Julie Cohen and Betsy West, illuminates the remarkable—and remarkably little-known—life of Pauli Murray, a nonbinary, Black lawyer, activist, and poet who influenced the work of Ruth Bader Ginsburg and Thurgood Marshall.
Drexler Films, Storyville Films (Prime Video)
"Nuclear Family"
In this three-part series, filmmaker Ry Russo-Young delves into her own upbringing by two lesbian mothers via sperm donor in the late 1970s and early '80s, a time when LGBTQ parents were rare. An unexpected lawsuit caused her to rethink the meaning of the word "family."
HBO Documentary Films, Big Beach, Impact Partners, and Topic Studios present in association with Sustainable Films and BUNKER (HBO/HBO Max)
"Philly D.A."
As riveting as any TV show, this eight-part docuseries introduces Larry Krasner, who spent 30 years fighting the district attorney's office as a civil rights lawyer before he was elected to the position himself—and thus faces the challenge of his life, trying to change the system from within.
To see the full list, go to https://peabodyawards.com