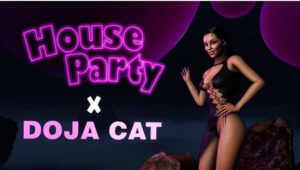 The real-life American Music Award-winning star arrives in style with an astoundingly realistic character integration and a hilarious fully-voiced storyline
Eek! Games have teamed up with award-winning music star Doja Cat to deliver a wild all-new branching of the single-player video game, House Party, The Doja Cat side story, voiced by Doja herself is packed with unforgettable adventure, comedy, and mystery. House Party's full launch is scheduled for Q2, 2022 and the Doja Cat DLC, produced in partnership with Bravado and Epik, will launch post-release, in Summer 2022. House Party is a 3D raunchy comedy adventure game developed and published by American studio Eek! Games available now on Steam/PC and coming soon to console.
In the upcoming DLC, players will navigate through an unpredictable night filled with outrageous party goers as they help Doja carry out a master plan to track down a masked dancing sensation who is taking the online world by storm. Play House Party and add the Doja DLC to your Steam wishlist here.
"I'm so excited that I'm going to be a video game character," says Doja Cat. "House Party is about to get even better. You gotta check this game out!"

Eek! Games are excited to reveal the Doja Cat House Party character to all her fans. Players can interact with the character in several ways. Get her to the party. Befriend her. Maybe even flirt and fall in love! Witness Doja Cat in three outfits; a casual black dress, music video performance attire, and a steamy hot tub bikini. Throughout gameplay, Doja will react to the craziness that ensues during the party, showcase custom dances, and performances, and create her next music video with the player's assistance – for better or for worse.