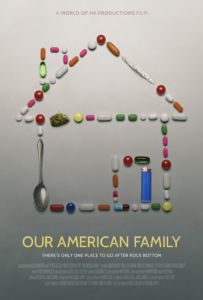 "Our American Family" is set for release in the US Theatrically in New York (Cinema Village), Los Angeles (Laemmle Monica) on September 2 and on VOD in the US, Canada, UK and major territories on September 6, both timed to National Recovery Month.
Directed and produced by Hallee Adelman & Sean King O'Grady, Our American Family provides a look at a close-knit Philadelphia family dealing with generational substance abuse. Captured at a pivotal "nothing to lose" moment, for over the course of a year, five family members tired of life with addiction on center stage, each struggle to transcend their crippling histories.
Hallee Adelman is a writer, filmmaker, and co-founder of World of HA Productions. She is an executive producer on the Emmy-winning documentary "The Social Dilemma," and the Oscar-nominated international film, "Writing with Fire."
Sean King O'Grady is a filmmaker based in Michigan. His award-winning feature films have screened at Sundance, Tribeca, Telluride, Berlinale, Sitges, SXSW and dozens of other festivals around the world.