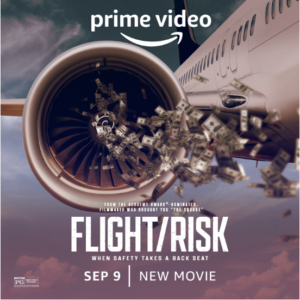 Flight/Risk follows everyday people who find themselves in the midst of a global tragedy when two Boeing 737 Max planes crashed only five months apart in 2018 & 2019.
This powerful documentary is told through the perspective of affected family members, their legal teams, whistleblowers, and Pulitzer-winning Seattle Times journalist Dominic Gates.
The film is directed by Karim Amer and Omar Mullick, and from producer Karim Amer, Paul McGuire, Jia, Leen Karadsheh, and Mike Lerner.
Here is the film's official synopsis:
From the Emmy-winning and Oscar-nominated team behind The Square, The Great Hack, and The Vow, comes another urgent global investigation, Flight/Risk. Whistleblowers, journalists, lawyers, and everyday people from 32 different countries find themselves pitted against a corporate Goliath, whose new flagship aircraft crashed only five months apart, killing 346 people. Gumshoe journalist Dominic Gates and sterling patriot Ed Pierson are the one-two punch to Boeing that triggers the international outcry over the crashes. Following the making of a whistleblower in real time, Flight/Risk is a documentary thriller that investigates what it takes for ordinary people to hold a larger-than-life corporation to account. Pulling in family members who lost loved ones in the crash, lawyers fighting for compensation of victims, and loud public voices in the fray, here is what a portrait of heroism looks like.