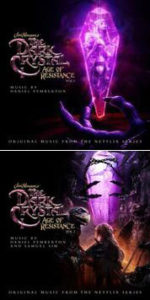 The Soundtrack Volumes 1 & 2 for The Jim Henson Company's fantasy adventure series The Dark Crystal: Age of Resistance are being released digitally on Friday, August 30 (the same day as the series launch on Netflix), and on CD and vinyl in the coming months, exclusively through Music.Film Recordings.
Volume 1 of the soundtrack features original music by composer Daniel Pemberton, while Volume 2 consists of tracks by Pemberton and by Samuel Sim.
"I approached the music the same way I approached the filming and the puppetry," explains executive producer and director Louis Leterrier (Now You See Me, The Incredible Hulk). "I wanted somebody to come on this journey that would be willing to take big risks. I wanted something that was almost tribal. I wanted to hear the strings being plucked and the skin wrapped over the drum. At the same time, I wanted somebody who could write beautiful melodies, understood music, and was a lover of beautiful music. I wanted someone who would approach it in a very organic way and who would tell the story through the score. My search led me to Daniel."
The 10-episode show is a prequel to the groundbreaking 1982 fan favorite The Dark Crystal, and takes place many years before the events of the film. Leading the voice cast in the series will be Kingsman star Taron Egerton, The Witch actress Anya Taylor-Joy and Game of Thrones' Nathalie Emmanuel, as 'Gelfling' heroes Rian, Brea and Deet. Star Wars' Mark Hamill, Harry Potter's Helena Bonham-Carter, Tomb Raider star Alicia Vikander and Outlander's Caitriona Balfe provide additional voice performances in the new fantasy epic. The series was shot in the U.K., and stars an ensemble of fantastical, state-of-the-art creatures brought to life by Jim Henson's Creature Shop™ and designed by Brian Froud, the original feature's conceptual designer.

Composer Daniel Pemberton reveals: "I wanted the music to be as magical as Thra itself – organic, imperfect, strange, mystical, otherworldly and wonderful. I wanted to create new sounds that felt like they came from the world itself, as well as using thematic large scale orchestral elements to bring an emotion to the journey of the characters. I wanted music and sounds that would fill you with wonder, but also terrify you.
It was very important to me that all the sounds felt like they could only be from Thra itself – no grand pianos or overtly electronic elements. Every sound had to feel organic and visceral, from the dark detuned glissando cello sounds made for the Skeksis, to the upbeat flutes from the Podling's bar. We created noises out of wine glasses, metal chains, wooden drums, metal sculptures on a snow covered mountain and old creaky medieval instruments to try and make a sonic world as unique as the visual one."
"The Dark Crystal is set in a unique world of magic, adventure, threat and danger. The music had to capture that majestic wonder, as well as its dark, sinister underbelly," describes composer Samuel Sim. "Although nearly all the sounds in the score come from an acoustic or 'real' source, a huge amount of time was spent twisting, morphing and detuning them to create something completely new and surprising. For example, there are places in the score where flutes and clarinets were pitched down 5 octaves to sound like tubas and bass trombones. Nickel harps and cellos were put through guitar amps and at one point we even took the sound of chirping crickets and slowed it down so much that it created weird otherworldly pads and drones. It was important to us that the music should be both bold and epic but also unique, strange and mysterious to become the beating heart of the land of 'Thra' itself."