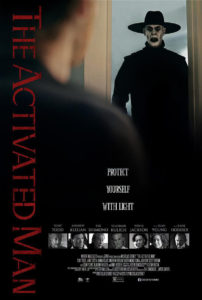 Director Nicholas Gyeney (Beta Test, Ultra Low) and producer Kelsey Aho of Genie Productions recently announced that Dances With Films NYC will host the World Premiere of The Activated Man, Gyeney's deeply personal latest feature.
The mind-bending thriller will premiere on December 3rd at the Regal Union Square as the Closing Night Film of Dances with Films NYC.
Drawing on the universal theme of grief with a twist that Gyeney's work has become noted for, The Activated Man stars Jamie Costa as an everyman who loses his beloved dog. His grief spurs disturbing visions that cause him to wonder if he's dealing with the usual highs and lows of a painful loss, or if darker forces are preying on his mind.
The star-studded cast is rounded out by genre icons Tony Todd (Candyman), Sean Young (Blade Runner), and four-time Jason Voorhees Kane Hodder, alongside Andrew Keegan (10 Things I Hate About You) and longtime Gyeney collaborator Scott Brown as the villainous Fedora Man.
The film follows Ors Gabriel who struggles with the grief from losing his best friend and beloved dog to cancer, and the trauma which brings on strange visions only Ors can see. While he questions whether his mind has fractured or if it's actually real, a mysterious rise in murder-suicides takes hold of the city, and Ors becomes haunted by images of a shadowy figure known as 'The Fedora Man'.
Through torments and terror, Ors must face his fears and confront 'The Fedora Man' as he uncovers dark secrets from his past, while finally embracing who he really is, and what he is meant to do.