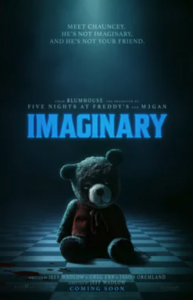 Blumhouse and Lionsgate have recently released the trailer for the upcoming supernatural horror film "Imaginary", which was also attached to Five Nights at Freddy's.
The film itself is from the producer of 'M3GAN' and 'Five Nights at Freddys', and is a concept-driven horror about childhood imagination.
Directed by Jeff Wadlow (Never Back Down, Kick-Ass 2) ,the film stars DeWanda Wise, Tom Payne, Taegan Burns, Pyper Braun, with Veronica Falcon, and Betty Buckle
Imaginary is set to be released by Lionsgate on March 8, 2024
Here's the film's official synopsis:
When Jessica moves back into her childhood home with her family, her youngest stepdaughter Alice develops an eerie attachment to a stuffed bear named Chauncey she finds in the basement. Alice starts playing games with Chauncey that begin playful and become increasingly sinister.