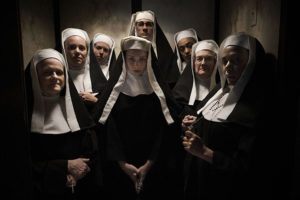 Directed by Mickey Reece, the horror-Drama is set to premiere at 2021 Tribeca Film Festival on June 12.
See the film's Tribeca festival page here: https://tribecafilm.com/films/agnes-2021
The film stars Molly Quinn, Jake Horowitz, Sean Gunn, Chris Browning, Ben Hall, Mary Buss, Chris Sullivan
Here is the film's official synopsis:
A nun's disturbing behavior sparks rumors of demonic possession at a remote convent. When a priest-in-waiting and his disillusioned mentor are sent to investigate, their methods backfire, leaving a wake of terror and trauma.