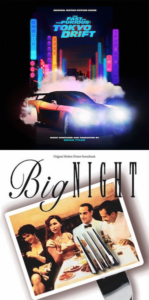 Varèse Sarabande Records will be releasing two soundtrack LPs for Record Store Day Drops 2022: The Fast and the Furious: Tokyo Drift will be released as a double LP with collector's edition etching and Big Night on crystal clear vinyl.
These Varèse Sarabande Records titles will be available tomorrow, June 18, at thousands of independent record stores. For a list of participating stores and more information about these special LPs, visit RecordStoreDay.com.
The Fast and the Furious is the most successful movie franchise of all time, with almost 6.5 billion dollars in box office receipts from ten films over the past 20 years. Tokyo Drift is often cited as one of the best of the lot, and the musical score is definitely one of the most lauded among score fans. Brian Tyler (Scream, Thor, Avengers) scored Tokyo Drift (with an assist from Slash on "Welcome to Tokyo") and went on to score four of the five subsequent films.

Never before available on LP, the text-only cover on the CD and digital formats has been replaced with an original design which incorporates Japanese manga art styles. This double album features an orange LP for sides A and B, and a black vinyl record for sides C and D, with side D a stencil of the scarab beetle design from the car belonging to the Drift King.
A breakout indie film success in 1996, Big Night has received new attention due to star and director Stanley Tucci's best-selling book and Italian food-based program on CNN, Searching for Italy. The soundtrack was also a hit with viewers with its large serving of 1950s classics from Rosemary Clooney, Keely Smith and Louis Prima, whose persona plays a major character in the film. This record has never before been released on LP and is pressed on crystal clear vinyl exclusively for RSD 2022.