By Creative Media Times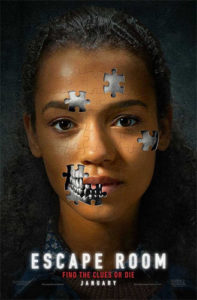 Sony Pictures has released the poster and trailer horror thriller film "Escape Room" which recently moved up its released date from early February to January 4, 2019.
The trailer sees a group of strangers who received an invitation from a mysterious organization called MINOS. The invite sends them to an escape room to play a game: be the first to escape the "most immersive room yet" and they will win a million dollars.
But that won't be easy because they have to solve riddles to win. Or else they will die.
The film looks both fun and creepy, with some elements from horror films Jigsaw and Cabin in the Woods thrown in the mix, though less gruesome than both, at least from what we've seen so far.
Directed by Adam Robitel (Insidious: The Last Key, The Taking of Deborah Logan), from the script by Bragi F. Schut and Maria Melnik, the film star Logan Miller, Deborah Ann Woll, Taylor Russell, Tyler Labine, Jay Ellis, and Nik Dodani.
Here's the film's official plot synopsis:
"Escape Room is a psychological thriller about six strangers who find themselves in circumstances beyond their control and must use their wits to find the clues or die."
Escape Room is set to hit theaters on January 4th, 2019.