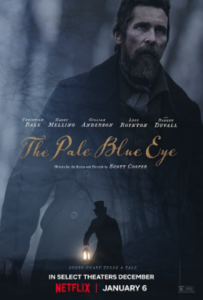 Christian Bale is reuniting with Scott Cooper for the upcoming thriller "The Pale Blue Eye". The film is adapted from the 2003 novel by Louis Bayard of the same name.
Bale aand Cooper previously worked together in the 2013 crime drama "Out of the Furnace", as well as 2017's classic western "Hostiles".
Written, directed, and produced by Scott Cooper, the film also stars Gillian Anderson, Lucy Boynton, Charlotte Gainsbourg, Toby Jones, Timothy Spall, and Robert Duvall.
The Pale Blue Eye is set to be released in select theaters on December 23, 2022, followed by relaase on Netflix on January 6, 2023.
Here's the film's official synopsis:
West Point, 1830. A world-weary detective is hired to discreetly investigate the gruesome murder of a cadet. Stymied by the cadets' code of silence, he enlists one of their own to help unravel the case — a young man the world would come to know as Edgar Allan Poe.