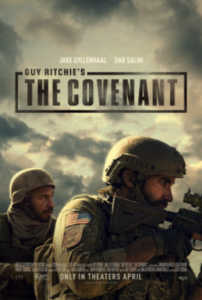 The trailer for Guy Ritchie's latest film "The Covenant" shows a U.S. Army Sergeant on a mission. The upcoming action/thriller movie stars Jake Gyllenhaal, Dar Salim, Antony Starr, Alexander Ludwig, Bobby Schofield, Emily Beecham, and Jonny Lee Miller.
The film follows US Army Sergeant John Kinley (Jake Gyllenhaal) and Afghan interpreter Ahmed (Dar Salim). After an ambush, Ahmed goes to Herculean lengths to save Kinley's life. When Kinley learns that Ahmed and his family were not given safe passage to America as promised, he must repay his debt by returning to the war zone to retrieve them before the Taliban hunts them down first.
"The Covenant" is set for release theatrically on 21 April 2023.