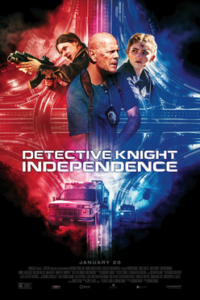 Bruce Willis is set to reprise his role as the title character for ""Detective Knight: Independence", and Lionsgate has released the film's trailer, giving audiences a look at the upcoming third and final chapter of the action film.
"Detective Knight: Independence" is directed by Edward Drake, who's also responsible for writing the screenplay and the story with Corey Large.
Also in the film are Jack Kilmer, Lochlyn Munro, Jimmy Jean-Louis, Willow Shields, Dina Meyer, and Timothy V. Murphy.
Lionsgate is set to premiere the film in select theaters, on demand and digital and later in a month, on January 20.
Here's the film's official synopsis:
Knight's last-minute assignment to the Independence Day shift turns into a race to stop an unbalanced ambulance EMT from imperiling the city's festivities. The misquided vigilante, playing cop with a stolen gun and uniform, has a bank vault full of reasons to put on his own fireworks show… one that will strike dangerously close to Knight's.