By Creative Media Times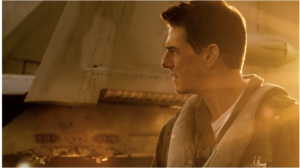 Sometimes, good things come to those who wait. After a couple of release delays, Paramount Pictures' tentpole made a stop in Vegas, where fans at CinemaCon got their first view of the film and received soaring reviews, with some calling it the "best of the year."
The film will also play out of competition at Cannes next month.
In Top Gun: Maverick, Tom Cruise reprises his role as the cocky fighter-pilot character Pete "Maverick" Mitchell. This time around, Maverick also recruits to train a new class of aspiring aviators. Val Kilmer also returns as Maverick's old nemesis, Tom "Iceman" Kazansky.
Oscar and Grammy winner Lady Gaga wrote an original song for the movie, titled "Hold My Hand," set to be released May 3.
On the final day of CinemaCon 2022 on Thursday, Paramount Pictures also unveiled a thriller trailer for Mission: Impossible 7, and teaser Damien Chazelle's highly-anticipated film Babylon.
Top Gun: Maverick is scheduled to be released in theaters on May 27, 2022.