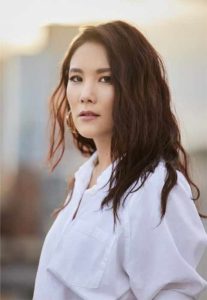 Ally Maki, Hayden Szeto, and Peter s. Kim lead the cast in Tom Huang's "Dealing With Dad". Geena Davis' Bentonville Way Entertainment is a producing partner on family dramedy written and directed by Huang.
Principal photography was recently completed for "DEALING WITH DAD," a film written and directed by Tom Huang ("FIND ME"), with Geena Davis led Bentonville Film Festival arm, Bentonville Way Entertainment, on-board to help produce the feature.
Ally Maki (HOME ALONE reboot on Disney+; WRECKED; TOY STORY 4), Hayden Szeto (EDGE OF SEVENTEEN; COME AS YOU ARE; TRUTH OR DARE) and Peter S. Kim (FAIRFAX on Amazon Prime; JUST FOR LAUGHS New Faces of Comedy) lead the talented cast for this intimate and personal dramedy about family and life at a crossroads.
Featured cast members include Dana Lee (DR. KEN; CURB YOUR ENTHUSIASM), Echo Kellum (ARROW), Megan Gailey (JUST FOR LAUGHS New Faces of Comedy), Karan Soni (MIRACLES WORKERS; DEADPOOL), Page Leong (ARGO; CRIMINAL MINDS), Ari Stidham (SCORPION), and Danny Jacobs (AMERICAN CRIME STORY; MASTERS OF SEX).
The film's writer/director Tom Huang's last film, FIND ME, won multiple film festival awards and is 100% on Rotten Tomatoes while being a hit streaming on Amazon Prime, making its top viewed lists in Drama, Comedy and Adventure films. Huang based DEALING WITH DAD on trying to get his dad to recover from depression.

"After going through the experience of trying to get my father out of depression, I wanted to share a bit of what that was like with a real, moving and sometimes funny story based on what my family and I went through," states Huang. "I'm looking for the film to entertain, but also start a discussion with audiences about this disease, which is often ignored in many communities."
DEALING WITH DAD centers around Margaret (Ally Maki) who reluctantly returns to her hometown along with her hapless brothers (Hayden Szeto, Peter Kim) to deal with the sudden depression of their antagonist father (Dana Lee). It turns out Dad is nicer depressed than well, and the siblings struggle to find a solution in this comedic drama. The film is produced by Stoddard Temple Productions, along with Bentonville Way Entertainment. The project has been developed through Film Independent's Screenwriter's Lab and Fast Track Program.
All of our producing and development partners champion diversity and inclusion in film as well as support for independent film," adds Producer Brian Yang. "Our film has universal themes from the unique perspective of an Asian-American family, with an incredible and diverse cast of actors, many who have or currently have starring roles in film and TV. It's great to work together with these amazing artists."
The film is produced by Brian Yang (LINSANITY; SNAKEHEAD), Tanner Kling (BREAKWATER; HEROES REBORN) Cindy Lu (PORTALS; HOME + AWAY) and Randy Kulina (FOR THE LOVE OF JESSEE; FIND ME).
Executive Producers are Effie Brown (DEAR WHITE PEOPLE; PALE HORSE), Howard Barish (13TH; BLINDFIRE), and Takashi Chang (SICK GIRL; DOUGHERTY GANG), along with a partnership with The Boba Guys' Andrew Chau and Bin Chen. Casting director is Shyree Meznick.