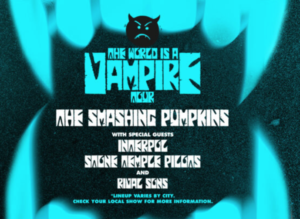 The Smashing Pumpkins, today announced their 26-date North American THE WORLD IS A VAMPIRE TOUR. Produced by Live Nation, the tour is set to start on Friday, July 28 at The Chelsea at the Cosmopolitan in Las Vegas. The tour will feature special guests Interpol, Stone Temple Pilots and Rival Sons as support on various dates, as well as some of the world's biggest champions from the National Wrestling Alliance (NWA), who will be competing in most cities. THE WORLD IS A VAMPIRE TOUR has already sold-out 30k plus capacity shows in Mexico City this year, as well in cities across Australia this spring, and is set to expand to more countries in the future. Artist pre-sale begins Tuesday, March 28 at 12pm local until Thursday, March 30 at 10pm local. General on-sale starts Friday, March 31 at 10am local. For more details go to: https://smashingpumpkins.com/tour/
"I grew up in a world where I needed to know bands like Siouxsie and the Banshees and The Cure existed, it meant there was a place for people like me to hang out and belong. That's what The World Is A Vampire is about. Bringing back that sense of community. If you don't fit in, you belong here. It's about having a shared experience and respecting others, but ultimately having fun. A true alternative festival, where all the self-proclaimed weirdos and outsiders of the world can get together and have a party" – Billy Corgan
Along with news of their upcoming tour, the band released their brand-new single Spellbinding which received its radio debut this morning during a very special live appearance on The Howard Stern Show, revealing details of their upcoming tour and the release date for their highly anticipated third and final act of ATUM, which is set for release on May 5. Act 3 will come with a special edition boxset featuring all 33 album tracks plus 10 additional unreleased songs, and is available for pre-order HERE.
The band performed '1979' and 'EMPIRES' live in the studio. Watch or listen to their interview on The Howard Stern Show HERE
ATUM features 33-tracks in 3 acts and is the sequel to 1995's Mellon Collie and the Infinite Sadness and 2000's Machina/Machine of God. ATUM was written and produced by Corgan over the past 4 years. 22 tracks have been released to date, with Beguiled continuing to climb at both Active Rock (peaked at #6) and Alternative Radio Charts (#12).