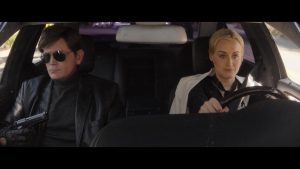 LOS ANGELES, CA – February, 2016 – The Orchard announced today that the company will release director Pat Healy's feature debut TAKE ME, starring Taylor Schilling opposite Healy. The Duplass Brothers serve as executive producers while Mel Eslyn and Sev Ohanian serve as producers of the film, which will have its world premiere at this year's Tribeca Film Festival, followed by a theatrical and digital release May 5th.
The acquisition marks an ongoing relationship with the Duplass Brothers and The Orchard as part of an output deal. The Orchard has worldwide theatrical, digital rental and sales, cable/satellite VOD, airline, DVD and soundtrack rights. Netflix will be releasing the film on its worldwide streaming platform later this year.

In TAKE ME, Ray is in the boutique simulated abduction business. An understandably threadbare market, he jumps at the chance when a mysterious call contracts him for a weekend kidnapping with a handsome payday at the end. But the job isn't all that it seems. A black comedy that threads the needle between crime thriller and slapstick farce, TAKE ME is as twisty as it is funny.
The filmmaking team of TAKE ME recently set up a website promoting the faux-company "Kidnap Solutions LLC" www.kidnapsolutions.com, which claims to be a fully immersive exposure therapy that has been known to cure alcoholism, drug addiction, overeating, nicotine addiction, sex/love addiction and bad habits.
Actor, writer and director, Pat Healy began his career on stage at Chicago's famed Steppenwolf Theatre Company. He went on to appear in over forty feature films including CHEAP THRILLS, COMPLIANCE, THE ASSASSINATION OF JESSE JAMES BY THE COWARD ROBERT FORD and MAGNOLIA. Healy's been featured on dozens of television series including RAY DONOVAN, HOW TO GET AWAY WITH MURDER and SIX FEET UNDER.
As a writer, Healy has authored a dozen feature film screenplays including STRANGE SKIES and SNOW PONIES, both of which appeared on The Black List of the best un-produced scripts in Hollywood in 2006 and 2007, respectively. SNOW PONIES is currently in pre-production starring Gerard Butler and directed by Darrin Prescott. He also wrote several episodes of HBO's critically acclaimed drama series IN TREATMENT. His first short film MULLITT, which he wrote, directed and starred in, premiered at The Sundance Film Festival in 2001.
The script for TAKE ME was penned by Mike Makowsky, who notably had two screenplays featured on last year's Black List, BAD EDUCATION and I THINK WE'RE ALONE NOW. The latter is in pre-production with Peter Dinklage and Elle Fanning attached to star, and Reed Morano directing.
Pat Healy commented "I was too lazy and/or afraid to direct a feature film for years until I read Mike Makowsky's inspired script. I knew I had to do it. Thankfully Jay, Mark & Taylor agreed and gave me the chance to make this crazy thing. It's the weird/funny movie I hope audiences would expect I'd unleash on the world."
"We are thrilled to collaborate once again with the Duplass brothers," said Julie Dansker, VP Sales and Marketing for The Orchard. "We greatly value our relationship with them and continue to be impressed by their ability to cultivate such inspired projects with stellar talent like Pat and Taylor. 'Take Me' is a uniquely funny film that we know audiences will love."
The deal was negotiated by ICM Partners on behalf of the filmmaker, and by Danielle DiGiacomo, VP of Acquisitions, on behalf of The Orchard.