Set To Release John Williams & Steven Spielberg: The Ultimate Collection
On March 17, 2017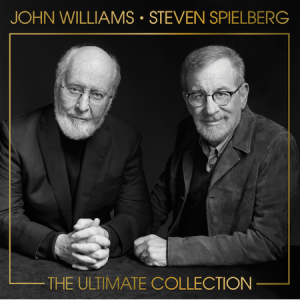 March 1, 2017 – Sony Classical has teamed up with Collider to exclusively premiere "Dry Your Tears, Afrika from Amistad" today. Listen to it now, here: https://goo.gl/Q83jWs. "Dry Your Tears, Afrika from Amistad" is the 2nd single from John Williams & Steven Spielberg: The Ultimate Collection, which is set to release on March 17, 2017.
Celebrating one of the most definitive and beloved partnerships in the history of motion pictures, John Williams & Steven Spielberg: The Ultimate Collection delivers an essential sampling of Williams's musical scores for Spielberg's films – a critically acclaimed, award-winning, chart-topping collaboration now in its fifth decade.
This collection brings together Williams's two previous discs of his music for Spielberg films, which he recorded with the Boston Pops Orchestra for Sony Classical: The Spielberg/Williams Collaboration (1991) and Williams on Williams: The Classic Spielberg Scores (1995). Those discs include music from Sugarland Express (1974) through Jurassic Park and Schindler's List (1993).

Bringing the collection up to date is an all-new third disc, recorded in 2016 with Williams conducting the Recording Arts Orchestra of Los Angeles, and with Spielberg as executive producer. It features the first release of brand new recordings of music from Indiana Jones and the Kingdom of the Crystal Skull, Amistad, The BFG, Lincoln, The Adventures of Tintin, Minority Report, Catch Me If You Can, Raiders of the Lost Ark, Saving Private Ryan, War Horse, The Terminal, Munich and Spielberg's 1999 documentary The Unfinished Journey.
The bonus DVD that accompanies this new three-CD collection presents Steven Spielberg & John Williams: The Adventure Continues, a new documentary by filmmaker and film historian Laurent Bouzereau, who has been documenting Spielberg's work for more than twenty years.
When Steven Spielberg made his first theatrical feature The Sugarland Express (1974), he sought John Williams to compose the score. With two exceptions, all of Spielberg's films have featured a Williams score. In its continuity and its infinite range of style and expression, their partnership is unique, even in light of other such legendary collaborations in film history, including Bernard Herrmann with Alfred Hitchcock, Nino Rota with Federico Fellini, and Ennio Morricone with Sergio Leone.
In his ongoing career, now in its sixth decade, Williams has won five Academy Awards (three for Spielberg films), seven BAFTA (British Film Academy) awards, four Golden Globes, and twenty-two Grammy Awards for his film scores. His fifty Academy Award nominations, as of 2017, are a record among composers, and he is second only to Walt Disney in holding the most Academy Award nominations by an individual artist. Fifteen of those nominations are for scores from Spielberg films.