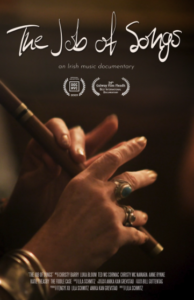 Tourists flock to the west coast of Ireland to take in the breathtaking Cliffs of Moher, but the real treasure lies in the soulful, acoustic sounds wafting out of pubs and living rooms of Doolin, County Clare. The denizens of this unspoiled coastal village of tight-knit neighbors and unlocked doors revel in the passion and history of their traditional folk songs, using music as a thread through generations to create community, connection, and joy.
THE JOB OF SONGS was made by a crew of three women, who are first time feature filmmakers: LILA SCHMITZ (director, producer, editor), ANIKA KAN GREVSTAD (director of photography, producer), and FENGYI XU (producer). The film was made with the support of acclaimed documentarians double Oscar-winning writer-producer-director Bill Guttentag and Emmy and Grammy Award winning documentarian Doug Pray. The film has screened at numerous prestigious International Film Festivals including DOC NYC, Galway Film Fleadh, Newport Beach Film Festival, Rocky Mountain Women's Film Festival, Milwaukee Film Festival, and many others. It won Best International Documentary at the Galway Film Fleadh.
Gravitas Ventures will release the film on digital platforms on November 21, 2023. The film has a running time of 74 minutes and will not be rated by the MPAA.
See the official trailer below: