By AICreative Media
This week, Universal unveiled a poster and a teaser for a full trailer coming out on Sunday. So this is a teaser of a teaser which is becoming more and more commonplace with summer blockbusters lately.
Tom Cruise stars as Nick Morton, and although the nature of his character is still unknown, it appears that Cruise is embroiled in a reawakening of an ancient Egyptian princess. According to the The Mummy's website movie synopsis: "..an ancient princess, whose destiny was unjustly taken from her is awakened in our current day."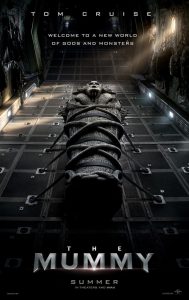 But the most intriguing part of the trailer is the appearance of Russell Crowe as Dr. Jekyl. You might have heard of Universal Monsters Cinematic Universe, a mash of action-adventure/horror films and the studio's answer to Marvel Cinematic Universe and DC Extended Universe. It appears that Dr. Jekyl's appearance lays the seeds of this series.
So far, the movie looks like a fun summer blockbuster: full of big stars, spectacular effects, and a scene of Cruise running.
The Mummy premieres on June 9th, so we can expect more trailers in the coming months.
While we're at it, here's some more clips of Tom Cruise sprinting: