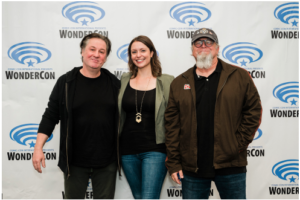 BMI and White Bear PR presented "The Music of Anti-Heroes: From Suicide Squad to Brainwave" panel at WonderCon 2022. The discussion featured prominent BMI composers Stephanie Economou (Jupiter's Legacy), Kevin Kiner (Peacemaker) and John Murphy (The Suicide Squad).
Throughout the panel, the composers elaborated on their creative process and where they find their inspiration when scoring for some of the most iconic villains like Harley Quinn, Peacemaker and Brainwave. Each composer gave insight on their influences and explained the complex details behind some of our favorite gut-wrenching moments and how music plays a key role in bringing out those emotions.
Additionally, the panelists dove into the start of their careers. Stephanie had a more traditional journey and graduated from UCLA, and Kevin and John both started out as musicians in a band; these experiences made them the composers they are today and have helped shape their own creative styles. The panel closed with an audience Q&A, where the panelists shared some advice for up-and-coming composers.