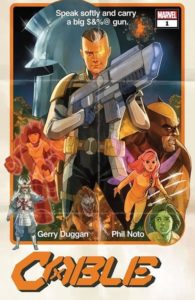 It's a new dawn for mutantkind's toughest soldier. Not quite the grizzled old war veteran from the future but still just as rebellious and hardheaded, Cable is back in a new solo series. See Nathan Summers confront his destiny in the CABLE #1 trailer featuring Editor Jordan D. White, Assistant Editor Annalisse Bisa, and writer Gerry Duggan.
On sale now, CABLE #1 is delighting fans with its high dose of action, fun, and shocking twists. Duggan's writing combined with Phil Noto's iconic art results in a high energy adventure where readers will get to see one of Marvel's most famous X-Men in an exciting and revelatory way.
"This is the story of a young soldier who hasn't seen the world end a bunch so he's more fun and untethered," Duggan says. "[Phil Noto] and I have the same ideas for Cable. I think we're gonna surprise some people. If you think you know Cable, you don't."
CABLE #1 by Gerry Duggan and Phil Noto is on sale now in comic shops, on the Marvel Comics App, and on Marvel.com.