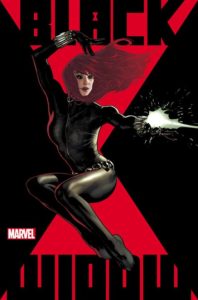 Announced this morning in an exclusive interview with IGN, Eisner-nominated writer Kelly Thompson (Captain Marvel) will be launching a new Black Widow ongoing series this April! Drawn by rising star artist Elena Casagrande (Catwoman), BLACK WIDOW #1 will feature a deadly mystery that only the Marvel Universe's greatest spy can solve.
Beyond San Francisco's Golden Gate, Natasha's entire world will be upended as she finds herself up against some of her most formidable villains. But what happens when they've found a way to take her out – even more permanent than death? Readers can expect all the intrigue and heart-pounding exploits that Natasha Ramonoff is known for as well as appearances by characters like Red Guardian and Yelena Belova! With this new series, 2020 will be Black Widow's greatest adventure yet.
"I think Black Widow is an incredibly rich character in that she works well in a lot of different genres, but that can also make her a little tricky – if you try to do too much with her instead of committing to a clear vision I think you can run into trouble," Thompson told IGN.
I'm very interested in the duality of Natash… so look for that to be a recurring theme in this first arc as she struggles against that and leans into it. We have some high profile guest stars (and of course some impressive villains) but this story has to stand on its own for a lot of reasons that will become clear immediately in issue one… which starts off feeling like a classic Natasha story and then quickly becomes quite unlike any story we've ever seen for her before." Continue reading →