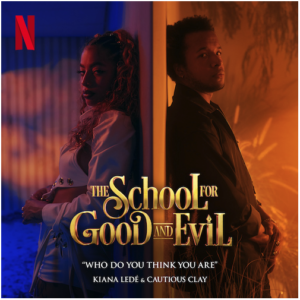 Netflix has announced the release of the single "Who Do You Think You Are" by Kiana Ledè & Cautious Clay from The School for Good and Evil (Soundtrack from the Netflix Film).
Sonically lush, atmospheric, and haunting, "Who Do You Think You Are" explores the dichotomy of right and wrong, of good and bad, and what it means to not be all of one or the other. The full 23-track album, which has a score by Theodore Shapiro, will release on major digital platforms on October 14.
The film follows best friends Sophie and Agatha, as they find themselves on opposing sides of an epic battle when they're swept away into an enchanted school where aspiring heroes and villains are trained to protect the balance between Good and Evil. Based on the epic international best-selling series "The School for Good and Evil" by Soman Chainani, the film releases globally on Netflix on Wednesday, October 19.