By Creative Media Times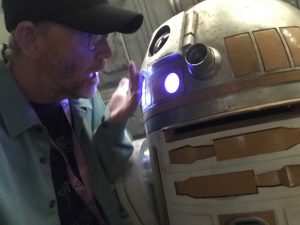 Ron Howard's latest tweet introduces us to a new R2 unit in the upcoming untitled "Han Solo" movie. And though it seems the droids aren't easy to work with, it's good to know that he's having a great time. But more importantly, it also appears the production is back on track.
The Academy Award-winning director shared the photo, along with the caption: "These droids can be so damn intractable. But we'll go until we get it right!"
Clearly the gold and white look is new, but its still early to tell how much work the production is crafting. But this bit of information is enough to get us excited, with actor's roles, plot points and production info on lockdown.
These robots are a huge part in all of Star Wars films; R2-D2 for example has supported Padmé Amidala, Leia Organa, Anakin Skywalker, Luke Skywalker, and Obi-Wan Kenobi in many of their adventures, so this is certainly exciting development for fans.
Ron Howard joined the project last June after original directors Phil Lord and Christopher Miller were reportedly fired due to "creative differences."
Focusing on the adventures of Han Solo, and stars lden Ehrenreich in the title role, "Han Solo" is currently scheduled for release on May 25, 2018.
These droids can be so damn intractable. But we'll go until we get it right! #UntitledHanSoloMovie pic.twitter.com/tDR6EOW8pn

— Ron Howard (@RealRonHoward) August 2, 2017