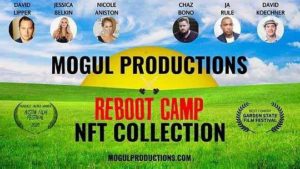 The production team behind the award-winning comedy Reboot Camp has partnered with Mogul Productions, a global non-fungible token (NFT) marketplace and decentralized finance (DeFi) platform for film and entertainment, for a major NFT drop scheduled for September 16, 2021.
The NFTs being auctioned include a series of never-before-seen NFTs made from deleted scenes from Reboot Camp featuring David Lipper, Jessica Belkin, Nicole Aniston, Chaz Bono, Ja Rule, and David Koechner. In addition to the digitally signed collectibles, 25 digitally signed NFT movie posters will be minted, each including a personalized screener of the movie customized by the lead actor/producer David Lipper and writer/director Ivo Raza. NFT DROP:
The "NFT Bonanza" will include 11 one-of-a-kind NFTs and the auction winners will also receive tickets to attend the VIP Invite-only red-carpet screening of Reboot Camp, and a meet-and-greet with the filmmakers and stars of the movie.
The star-studded event will take place at the famous Cinelounge® Outdoors at 1625 N. Las Palmas Ave. in Hollywood, on Tuesday, Sept. 21 at 6:30 p.m. PDT. The NFT buyers plus a guest will be introduced to cast and crew for pictures on the red carpet, autographs, and the chance to mingle at an exclusive afterparty with a guest list of less than 150 people. It will be a fan's ultimate Instagrammable experience! The event will also be streamed live to a global audience on Mogul Productions' YouTube channel.
"We're excited to partner with Mogul to launch the NFTs to create this unique collection digital artworks from the film and use some of the exclusive materials that didn't make it into the final cut of Reboot Camp. The NFT and Cryptocurrency world will also be the setting for Reboot Camp's upcoming sequel," said David Lipper, producer of Reboot Camp.