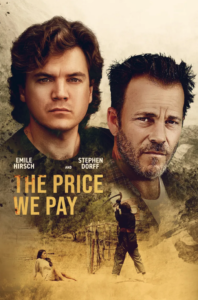 The upcoming action thriller is directed by Ryuhei Kitamura, who previously directed the 2008 horror film The Midnight Meat Train.
Lionsgate has released an intense new red band trailer for the film which gives us a look at the film. The film is set for release on VOD on January 10 and select theaters on January 13.
"Price We Pay" stars Emile Hirsch (Into the Wild) and Stephen Dorff (Blade).
Here's the film's official synopsis:
After an intense holdup at a pawnshop, Grace is taken hostage by the thieves. Forced to take refuge at a remote farmhouse late at night, they discover a secret dungeon with evidence of sadistic violence—and when "Grandfather" comes home, all hell breaks loose there. Can Grace muster the courage to escape the gut-wrenching fates that befall her criminal companions?"