Debuts on PBS Television Nationwide Monday, July 18, 2022 and Free Streaming on PBS.org Through August 18, 2022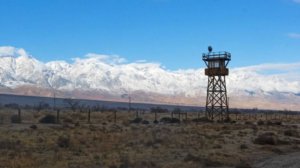 POV, America's longest running documentary series, now celebrating its 35th anniversary season, exposes the legacy of colonization, racism, and environmental injustice in the Payahuunadü region (California's Owens Valley).
The national broadcast premiere of Emmy Award-winning director Ann Kaneko's (Against the Grain: An Artist's Survival Guide to Perú) and producer Jin Yoo-Kim's (A Woman's Work: The NFL Cheerleader Problem) Manzanar, Diverted: When Water Becomes Dust premieres Monday, July 18, 2022.
The documentary is available to stream free until August 18, 2022 at pbs.org , and the PBS Video app. In addition to standard closed captioning, POV, in partnership with audio description service DiCapta, provides real time audio interpretations for audiences with sensory disabilities.
At the foot of the majestic snow-capped Sierras sits Manzanar, the site of the World War II concentration camp where 11,070 Japanese Americans were incarcerated from March 1942 to November 1945. This place is the confluence for memories of Payahuunadü, the now-parched "land of flowing water."

In Manzanar, Diverted: When Water Becomes Dust, Kaneko – best known for films that weave her poetic aesthetic with the complex intricacies of political reality – documents the struggle of intergenerational women who share histories of forced removal: Japanese Americans who were incarcerated at the camp, Native Americans who were driven from these lands, and farmers and ranchers turned environmentalists, who were bought out by the LA Department of Water and Power.
Yoo-Kim knew it was important to capture the oral stories of these people as they formed an unexpected alliance to defend their land and water from the city of Los Angeles. She says: "There is a reason why this overlapping history is kept from the people and that's the gap in knowledge the film and its impact campaign seek to address."
By connecting Manzanar to California's environmental and political history, the documentary shows the intersectionality of three communities mistreated by government entities that have not served the interests of all of their people. When these three communities joined forces, they were able to successfully triumph over the behemoth of LADWP.
Erika Dilday, American Documentary | POV Executive Director said: "On behalf of American Documentary and POV, we're so pleased to present Manzanar Diverted: When Water Becomes Dust – an enormously important film that really shows the power of coalition building, and the diverse and vitally connected histories of the Payahuunadü region."
Filmmaker Kaneko says, "My family was unwittingly swept into a dark chapter of American history, and this film has become a platform for us to unravel how our story is entwined in the formation of the West and LA's development as a megalopolis."
In anticipation of the broadcast, the film team will be holding a national Day of Action on the weekend of July 16-17. Partnering with 18 Million Rising, Tsuru for Solidarity, the Sierra Club and Nia Tero, they will spotlight local actions highlighting resource extraction, incarceration, environmental justice in a livestream video relay, passing the baton from one city to another. The 2 hour live stream will uplift water and land protectors. Please check out manzanardiverted.com for updates.