By Creative Media Times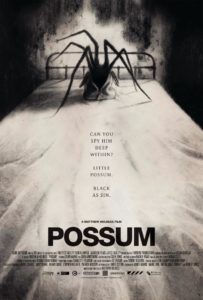 From the producers of The Survivalist and I Am Not a Serial Killer comes the directorial debut of Matthew Holness.
The film is set for release in theaters and on digital platforms on November 2, 2018.
Here is what critics are saying so far:
"In this debut feature, Holness has delivered a singularly clear and horrifying vision – a simple but overwhelmingly frightening horror story, wrapped in atmosphere so thick you could drown in it. " – Birth.Movies.Death
"Holness makes his debut behind the camera in expertly clammy style."
– Financial Times
Written and directed by Matthew Holness from producers James Harris, Mark Lane, Wayne Marc Godfrey, Robert Jones, the film stars Sean Harris and Alun Armstrong
Here's the film's synopsis:
A disgraced children's puppeteer (Sean Harris, Mission: Impossible – Fallout) returns to his dilapidated childhood home and lecherous stepfather (Alun Armstrong), intent on destroying 'Possum', a hideously malformed spider-puppet he carries with him in a brown leather case. His mind flooded with painful half-memories and nightmarish visions, he soon finds himself embroiled in a local investigation for a missing boy, progressively unsure of what's real and what's not. All the while Possum seems to mock his suffering at every turn.

A hallucinatory venture into a truly damaged psyche, Matthew Holness' (Garth Merenghi's Darkplace) POSSUM is a twisted trip of terror where both nothing and everything is exactly as it seems.