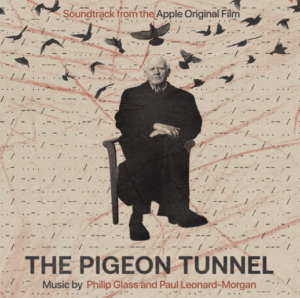 Platoon is set to release The Pigeon Tunnel – Original Motion Picture Soundtrack, an original score from composer Philip Glass and Paul Leonard-Morgan composed for Errol Morris' documentary THE PIGEON TUNNEL. In the film, AcademyAward-winning documentarian Errol Morris pulls back the curtain on the storied life and career of former British spy David Cornwell—better known as John le Carré, author of such classic espionage novels as "The Spy Who Came in from the Cold," "Tinker Tailor Soldier Spy" and "The Constant Gardener."
The soundtrack will release October 20th, timed to the theatrical release and global launch on Apple TV+, and will be available on all digital platforms including Apple Music. The soundtrack has been nominated by the Critics Choice Association Documentary Awards for Best Score.
The film is produced by Errol Morris, Dominic Crossley-Holland, Steven Hathaway, Simon Cornwell and Stephen Cornwell, Hossein Amini, P.J. van Sandwijk, Michael Lesslie, Joe Tsai, Arthur Wang, Michele Wolkoff and Katherine Butler serve as Executive Producers on the film.
"It is our pleasure to share The Pigeon Tunnel soundtrack," say Philip Glass and Paul Leonard-Morgan. They add, "The orchestral journey this score took us on, combining the cimbalom of 60's espionage soundtracks with symphonic orchestral work, led to 80 minutes of score, almost the entirety of the film."

Paul Leonard-Morgan further comments, "When Errol asked Philip and myself to collaborate on The Pigeon Tunnel it felt so incredibly appropriate. With Philip having scored three of Errol's movies, including the Oscar winning The Thin Blue Line, and me having scored the last five, it was an opportunity for us to collaborate on an Errol movie, after scoring the series Tales From The Loop and The Green Veil together."
"Collaborating with Errol and Paul on the fascinating subject of John le Carré was a wonderful experience," adds Philip Glass. "I had worked with Paul and Errol separately, but coming together to explore the life of this pivotal figure was a special opportunity. The soundtrack provides a sonic landscape for the journey, exploring both intimate and full orchestral moments, of which we hope you enjoy."
Track List
1) Where to Begin
2) The Pigeon Tunnel
3) Childhood
4) Self Examination
5) Was She Dead Was She Alive
6) Son Of A Swindler
7) The Neverwozzers
8) Destined To Be A Barrister
9) Recruiting
10) Berlin
11) The Spy That Came In From The Cold
12) Traitors
13) Philby
14) Double Agents
15) Moscow 88
16) King Of The World
17) Clandestine Worlds
18) Betrayal
19) Master Of The Spies
20) A Perfect Spy
21) Exeter Jail
22) Ruthless Men
23) I Owe It All To Him
24) Later In Life
25) Goodbye Ronnie
26) What Is Truth
27) The Empty Safe
28) The Artist