By Armando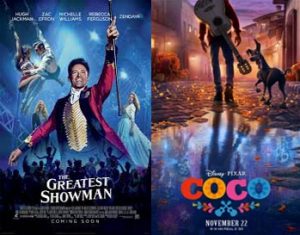 Coming into this Sunday's Academy Awards, there's an unpredictable category which features a broad selection of nominees from diverse types of films and could yield a surprising result: Best Original Song.
Last year's winners for best original song, Benj Pasek and Justin Paul for La La Land's "City of Stars" are up for another Oscar trophy, this time for "This is Me" from The Greatest Showman, a musical currently enjoying some excellent run at the boxoffice.
It will not be a walk in the park for the duo this time, with many expecting "Remember Me" by Kristen Anderson-Lopez and Robert Lopez from the animated hit Coco taking home the prize.
Like Pasek and Paul, Kristen and Robert has won before, for Frozen's "Let It Go" (2013). It certainly helps that Coco is nominated for Best Animated Feature and a global boxoffice hit. And there goes a two-way race begins, or so we thought.
All the other nominees clearly resonated with voters just as strongly, each with a special quality to surprise and take home the big prize.
"Stand Up For Something" from Marshall is a collaboration between Common and musical chameleon Diane Warren, the latter a nine-time nominee but has strangely never won and which many voters may deem overdue for an Oscar.
"Mighty River" from Mudbound is performed by R&B/Hip-Hop superstar Mary J. Blige, who became the first woman to receive multiple Oscar nominations in the same year (she's also up for Best Supporting Actress).
Then finally, there's the acoustic song "Mystery of Love" by acclaimed singer-songwriter Sufjan Stevens from Call Me By Your Name. The song was featured prominently during the film and in the film's trailer.
Will the Academy go with the rousing bona fide hits? Or the renowned industry veterans? Or the acclaimed indie?
This year's nominees are confirmed to perform during the awards ceremony on Sunday, March 4, 2016, at the Dolby Theatre at Hollywood & Highland Center in Hollywood. The show will be hosted by Jimmy Kimmel, and it will air on ABC.
Here's Academy Award nominees for Best Achievement in Music Written for Motion Pictures (Original Song).
"Remember Me"
Coco
Kristen Anderson-Lopez, Robert Lopez
"This is Me"
The Greatest Showman
Benj Pasek, Justin Paul
"Mystery of Love"
Call Me by Your Name
Sufjan Stevens
"Stand Up for Something"
Marshall
Common, Diane Warren
"Mighty River"
Mudbound
Raphael Saadiq, Mary J. Blige, Taura Stinson