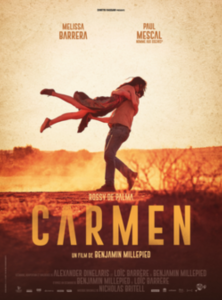 Directed by Benjamin Millepied, "Carmen" is a gritty modern day tale, with a majestic score by Nicholas Britell, and dream-like dance sequences that evoke magic realism. Melissa Barrera plays Carmen, with Paul Mescal as Aidan. Also in the film are Rossy de Palma and Tracy "The DOC" Curry.
The story follows a young and fiercely independent woman who is forced to flee her home in the Mexican desert following the brutal murder of her mother, another strong and mysterious woman.
In the film, Carmen survives a terrifying and dangerous illegal border crossing into the US, only to be confronted by a lawless volunteer border guard who cold-bloodedly murders two other immigrants in her group. When the border guard and his patrol partner, Aidan—a Marine with PTSD—become embroiled in a deadly standoff, Carmen and Aidan are forced to escape together.
The film is set to be released on April 21, 2023.