By Creative Movie Times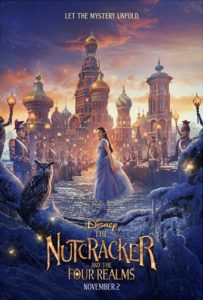 Giving new life to the E. T. A. Hoffmann's classic holiday story, Walt Disney Pictures has just released the final trailer for "The Nutcracker and the Four Realms" and it looks magical.
"The legend you know has a dark side," it says on the trailer, where the film's young lead Clara is lead to a trip into the four realms: The Land of Snowflakes, The Land of Flowers, The Land of Sweets, and the mysterious last realm ruled over by Mother Ginger.
This latest big screen Disney adaptation is full of stars in the cast, which includes Mackenzie Foy (as the lead in the movie as Clara) Keira Knightley the Sugar Plum Fairy, and Helen Mirren as the villainous Mother Ginger. Also in the film are Matthew Macfadyen, Eugenio Derbez, Richard E. Grant, Misty Copeland, and Morgan Freeman.
There is also enormous talent behind the camera of the film, with Joe Johnston (Jurassic Park III, Captain America: The First Avenger) and academy award nominated director Lasse Hallström (The Cider House Rules, What's Eating Gilbert Grape, Chocolat) co-directing.
Walt Disney Studios Motion Pictures is set to release "The Nutcracker and the Four Realms" on November 2, 2018.