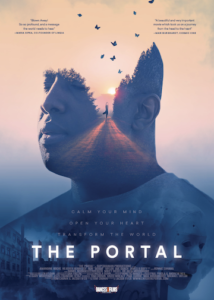 Tom Cronin and Jacqui Fifer's, groundbreaking documentary THE PORTALhas been chosen as an official selection at the 2019 Awareness Film Festival. The film will play on Saturday, October 12that 5pm at the Regal LA Live, 1000 W Olympic Blvd, Los Angeles, CA 90015 followed by a Q&A with cast and crew. The film will be released in theaters across North America starting November 1, 2019.
"We are thrilled to be screening for audiences and working with the amazing team at the 2019 Awareness Film Festival," stated writer/producer Tom Cronin. "The timing and setting is perfect as we work to launch THE PORTAL into theatres across the US starting this November, with Los Angeles."
Directed and written by first-time Australian director, Jacqui Fifer, and written and produced by international meditation expert, Tom Cronin(The Stillness Project)the captivating film has inspired crowds throughout the world and audiences across North America will get their chance to experience THE PORTALthis fall.
"The film facilitates a collective shift on the planet that takes us into a new era of united living; it had to be groundbreaking, unique, and go viral." "THE PORTALis truly a film for everyone. Its commercially viability raises the genre bar while remaining true to its core message,"Cronin continued. Click here to see the trailer.

In addition to the film's debut at this year's Awareness Film Festival, Mangurama, a partnership between Abramoramaand Giancarlo Canavesio's Mangusta Productions, brings THE PORTAL, accompanied by the book of the same name, to theaters opening on November 1stat the Laemmle Monica Film Centerin Los Angeles and on November 15that TheVillage East Cinemain New York City with additional nationwide engagements to follow. The film will also be released in Australiaand New Zealandaround the same time.
THE PORTALASKS: As we face the collective challenges of shifting humanity out of a state of crisis, What would happen if 7 billion people meditated? Could it shift the trajectory of our planet?
THE PORTALIS:An immersive, cinematic experience that answers the question: How can we really change the world?
Through heart-opening contemplation and shared experiences of transformation on a personal scale, with global implications, six ordinary people and a robot show how stillness and mindfulness can unlock personal change and ignite a planetary shift, providing hope to humankind.
Filmed in the USA, Canada, Australia and a Syrian refugee camp in Jordan, THE PORTALis richly visual and sonically powerful. Mesmerizing cinematography and the raw intimate stories draw the audience in, while the immersive soundscape breaks ground in film history with its use of binaural beats in an already evocative score.
"I believe real-time change is possible, and that through the poignant personal stories and ideas unfolding and weaving together in this way we've got a portal to our greatest potential," said Fifer. "This project has been a catalyst for many of us and I'm seeing it jump-start a lot of other people too. I couldn't have found a more perfect project for my first foray into feature docs and directing. I've spent my life preparing for this film, without realizing, and watching many facets of me emerge and harmonize in order to weave it together–the filmmaker, the musician, the dreamer, the feminine and so on–has been a fun process."
A Diverse Cast and Crew from Across the GlobeFeaturing an impressive and diverse cast and crew, led by people from all over the world and all walks of life from military veterans, to scientists, performers and more,KITRA CAHANA(HEY TED, DANCING TOWARDS THE LIGHT), JAMES R. DOTY, RON "BOODA" TAYLOR andDUE QUACH, the highly relevant thought provoking film will appeal to global audiences.