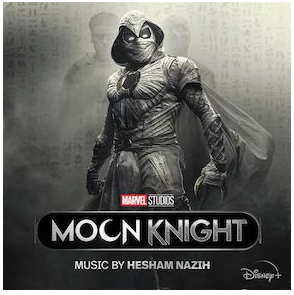 Hollywood Records has digitally released the original series soundtrack of Moon Knight, Music by Hesham Nazih from the latest hit Marvel Studios superhero series on Disney+.
The soundtrack features 33 tracks by the Egyptian composer, who infused signature Egyptian flavor with a more modern and contemporary sound rather than relying on outdated music tropes from the region. Hesham was also touched by the character of Marc Spector, who has to save the world while struggling with his own mental health issues, and used his score to express the human emotions that words cannot.
The epic, adventurous score infuses contemporary Egyptian music into heroic fanfare as Nazih heralds in Marvel Studios' latest superhero. Music for the series has received high praise from fans, and have lately taken to Twitter to praise the soundtrack.
Here's a short synopsis of the miniseries:
When Steven Grant, a mild-mannered gift-shop employee, becomes plagued with blackouts and memories of another life, he discovers he has dissociative identity disorder and shares a body with mercenary Marc Spector. As Steven/Marc's enemies converge upon them, they must navigate their complex identities while thrust into a deadly mystery among the powerful gods of Egypt.