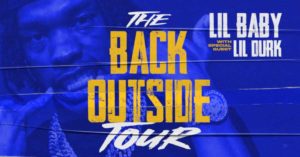 Lil Baby will embark on a nationwide tour with Lil Durk performing hits off their recent collaborative album, The Voice of the Heroes, which debuted at No. 1 on the Billboard 200 chart. Produced by Live Nation, the fall tour will kick off on September 1st in Mansfield, MA at the Xfinity Center making stops in New Orleans, Phoenix, Los Angeles, and Brooklyn, before wrapping up in West Palm Beach, FL on October 15th at the iTHINK Financial Amphitheatre.
Tickets go on sale to the general public starting Friday, June 25th at 10am local time on LiveNation.com.
Grammy-nominated Lil Baby has been one of the most dominant and critically-acclaimed names in rap since his first release in 2017. In February 2020 he released My Turn, which entered The Billboard 200 at #1, hovered in the Top 5 for 14 weeks, and then returned to #1 in June for four consecutive weeks. The album was the #1 streamed and #1 selling album of any genre in 2020. Lil Baby is as authentic as they come; at just 26 years old, he is unapologetically himself, speaking his truth in his lyrics and that connects him to listeners like no other. Last June as the nation protested, Lil Baby dropped a powerful record "The Bigger Picture," articulating frustration, confusion, and a call to stand up for something much bigger than himself.
My Turn held 14 records simultaneously on The Billboard Hot 100, and Lil Baby has recently surpassed musical titans Prince and Paul McCartney among others in Billboard Hot 100 hits in his young 3-year career. To date, Baby's catalogue reached 25 billion global streams, won the BET Award for Best New Artist, named Vevo's Top Performing Hip-Hop Artist of 2020, named MVP on Rap Caviar, he won the top award of Global Artist of the Year at the Apple Music Awards. "The Bigger Picture" was nominated for two Grammy's (Best Rap Performance & Best Rap Song). Lil Baby has scored nine #1 songs on the Urban radio chart and has amassed more than 1.4 Million spins, reaching over 4 Billion in audience across all formats at radio. He also recently won the award for Hip-Hop Album Of The Year at the 2021 iHeartRadio Music Awards.
This year Lil Baby gave the most relevant moment at the 2021 Grammy's with a powerful performance of "The Bigger Picture." THE NEW YORK TIMES declared "Lil Baby's performance managed to invoke the despair and anger of that moment without it feeling co-opted by the institutions that were playing host," while TIME MAGAZINE stated "Lil Baby literally took to the streets in a searing performance of his Black Lives Matter anthem "The Bigger Picture," his voice gasping and straining poignantly over his rapid-fire syllables about injustice and reform, while Tamika Mallory and Killer Mike offered eloquent support." Lil Baby has widespread critical acclaim from the likes of GQ and Vanity Fair and has graced the covers of Rolling Stone and NME. With such a rapid rise and a relentless stream of critical and commercial hits, it's clear that Lil Baby is one of the greatest modern success stories in hip-hop.