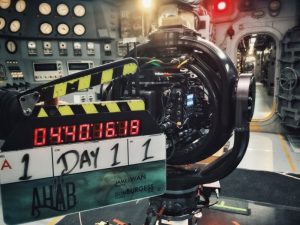 By Creative Media Times
'Aquaman' filming is officially underway, and to prove it, director James Wan shares a photo from the film's set on Twitter.
"Months of intensive prep have led to this. Here we go. #DayOne #Ahab", says Wan. Ahad is the working title of the movie, and the set photo seems to be inside a submarine.
Jason Momoa of course is Arthur Curry / Aquaman, the king of the undersea city of Atlantic. The character is also expected to appear in the forthcoming Justice League which comes out this November 17, 2017. Momoa is joined by Amber Heard, Yahya Abdul-Mateen II, Patrick Wilson, Nicole Kidman, Willem Dafoe, Tumuera Morrison and the recently announced cast member Dolph Lundgren.
Aquaman is expected to be shooting in Australia for the next six months, and is scheduled to be released on December 21, 2018 by Warner Bros.