By Creative Media Times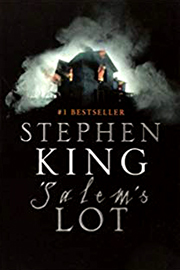 Stephen King's 1975 horror novel is said to be getting a big screen treatment, with James Wan and Gary Dauberman collaborating on the project.
Salem's Lot tells the story of a writer named Ben Mears who returns to the titular town of his youth, only to find out that its residents have become vampires.
The vampire novel is King's second published novel, and one of his most popular. Surprisingly, the novel never received a big-screen adaptation. It was adapted in a TV series in 1979, and was updated in a mini-series in 2014 which aired on TNT.
Wan and Dauberman have worked together on The Conjuring Universe horror films, including Annabelle and The Nun, which were written by Dauberman.
Dauberman will also pen as well as executive produce Salem's Lot, while Wan will serve as producer together with Roy Lee and Mark Wolper.
Wan was responsible for kick-starting the Conjuring Universe in 2013 with its first entry The Conjuring as well as its 2016 sequel The Conjuring 2. He also recently helmed DC's Aquaman film for Warner Bros.